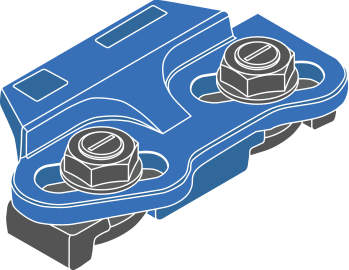 Crane Rail Fixing Clips
Crane rails need to be installed to the correct tolerances. Crane Rail Fixing Clips are designed to withstand the high forces the cranes apply to the rails. Clips are available in two types of application that can be bolted or welded, you have the choice of most appropriate installation method for your needs.
We are able to supply a comprehensive range of rubber nosed rail clips, The elastomer 'nose' applies a controlled force to the rail to restrain excessive movement.
They must:
Compliant with the support structure.
Compliant with the specified Crane Rail Section. 
Carry the horizontal forces from crane wheels, perpindicular to the rail. 
Size for size welded clips give a stronger installation but bolted clips are often more convenient.
All products installed by Crane Rail Installations UK Ltd carry the full manufacturers guarantees and Material Certificates are available upon request.
Resilient Rubber Crane Rail Pads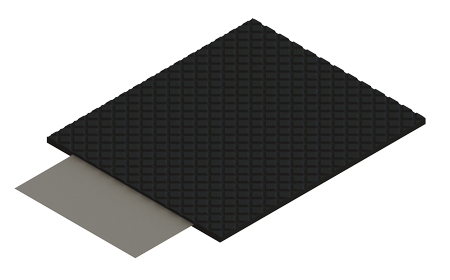 Resilient Rubber Crane Rail pads are designed to allow the rail to move and rotate by small amounts. When rails are on pad – known as soft mounting – this helps to ensure a more even stress distribution between the crane wheel and rail and also between the rail and the surface on which it is fixed. Crane Rail Installations UK Ltd  sell two pad types for continuously supported rail and discontinuous mounting.
Mark 2 elastomers pad is used under rails that are discontinuously supported.
Mark 7 and Mark 8 steel reinforced continuous pads are used under rails which are continuously supported.
A 'soft mounted' rail has many distinct advantages, not least a reduction in noise levels and vibration. Moreover, the resilient pad compensates for any uneven surfaces in the rail or steel support and thereby distributes the wheel load over a larger area. This reduces load concentrations and fatigue in the support structure. The Mark VII pad has a grooved surface that results in a non linear load deflection characteristic thereby controlling rail bending stresses.
A further advantage is the prevention of fretting corrosion between the rail and the supporting nominal steelwork. The standard resilient pad is 7 mm thick and is normally supplied in widths less than the rail base width.